What is a Master of Ceremonies ?
or Fear an Taigh in Gàidhlig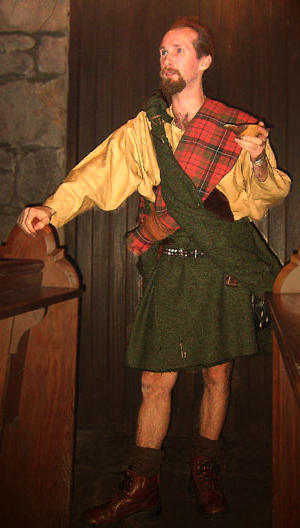 MCs have two wedding functions, the one you see and the one you don't.
~ Firstly, an MC ensures that the guests feel welcomed into your wedding and entertains them through the reception - the longest part of your wedding day. He or she adds flair and uniqueness to the event and acts as a true host, engendering a feeling of inclusion. There is more to an MC than announcing speeches, which is sometimes all a venue MC can provided. I give my own unique Highland flair to Fear an Taigh, dressed in ancient plaid, bringing Scottish wedding customs, language and culture. If you're having a Scottish castle wedding, then you can't be without me! In the next section you will find a list of customs I can bring to your day.
~ The second, unseen role, is that an MC works with the venue staff and organisers behind the scenes, knitting it all together, filling in those little gaps, so that the Bride, Groom and guests experience only a seamless day where everything flows just as they have wanted without them needing to think about it. Relax! The MC leads the day as a link between the staff and the guests.
The Master of Ceremonies, Fear an Taigh, is a natural continuation of tradition after a Handfasting ceremony, but can be a stand alone service.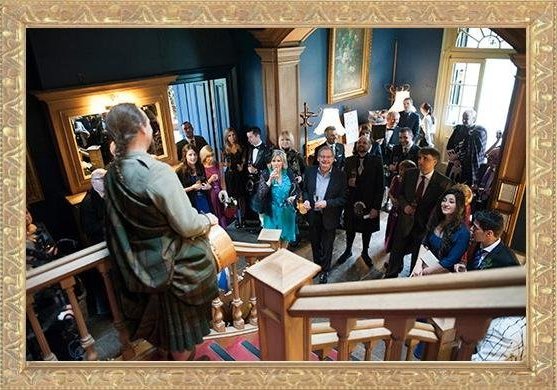 MC Customs brought at no extra charge
~ The Sharing of the Cuach as the guests give their Blessings to the couple. This is normally done at the begining of the speeches. And No, you don't have to drink the whisky!
Click for audio clip, Sharing of the Cuach ceremony: RealPlayer version OGG version
~ 1715 Jacobite Muster Roll. Sung for the gathering of the Clans, perhaps to dinner.
~ Fling the Ring. Yes, the wedding ring! Into a bath of soapy water. The first maid to find it will be the next to marry.
~ the Fèileadh Breacan. Dressing a member of wedding party in REAL Highland dress -the belted plaid - as an entertaining demonstration during the reception.
~ Storyteller. This role, telling traditional wedding Tales, comes as part of the MC role.
Additional Wedding Customs With Additional Exchange

~ Jumping the Besom / An Sguab. I make the Besom/broom especially for the occasion from traditional materials I collect (Ash, Willow, Hazel and Birch - no metal). The besom is then kept in the marriage home to bring protection and luck. It comes with an "instruction manual" for care of both besom and marriage! If you have your own besom then there is no additional exchange for this ceremony.
Audio clip / sound file example of Besom Jumping Ceremony : Besom - OGG version. Besom - WMA version.

~ Making St Bride's Crosses (reeds) with the guests to take home for themselves a wee piece of the wedding energy, like a DIY wedding favour. This can be done as part of the reception entertainment (like the one shown) or with the women on the night before the wedding, with a wee drinkie... (see below)

Each of these require preparation so an additonal exchange is asked on top of the Master of Ceremonies role.
Some Images of Bride's Cross Making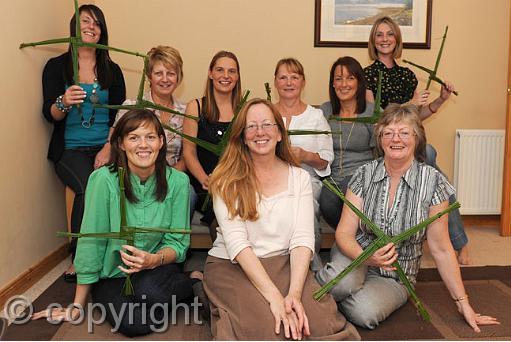 The night before...
Pic by Graham Vaughan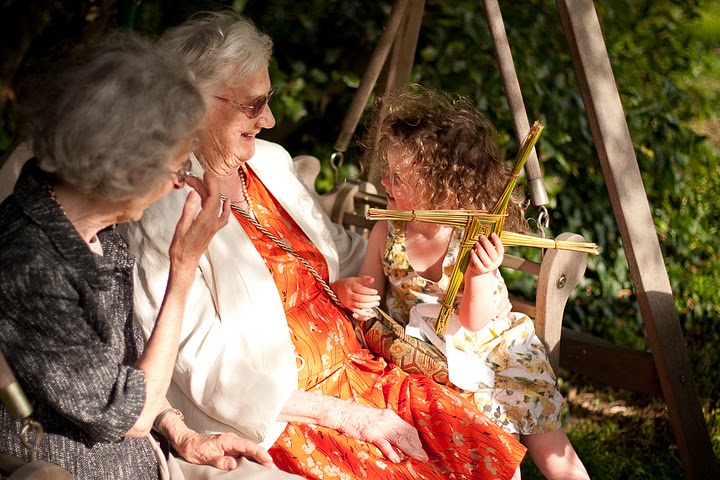 Bride's Cross making, England
Visit the Fees / Exchange page to see the MC costs
Seanachaidh - Traditional Wedding Storyteller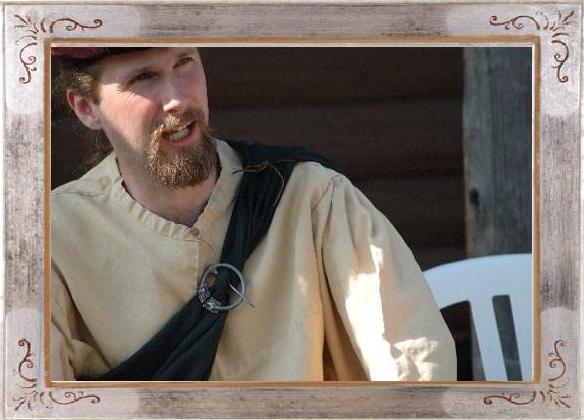 I am a Seanachaidh or Clan Bard, entertainer, oral historian and Traditional Storyteller. I offer a wedding entertainment, often co-ordinating with other musicians, in the form of Traditional Tales of Highland weddings past, clanns and the locale of the wedding. For those of you with Scots ancestry, it may even be possible to hear Tales from your family. This sits very well as entertainment during the photo session, or as part of the evening celebration, perhaps as part of a folk session. Tales can of course fill in those short, unplanned gaps in the flow of the day. This role can be a part of the MC role described above, or stand alone.

Audio / Sound file examples of Wedding Tales
Stewart of Ardsheil - part of wedding Tale, RealPlayer version
Maclean Tale (recorded for KSER Radio), OGG version

Why have a Seanachaidh present?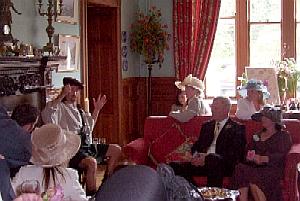 In times past in the Highlands, each Clann Chief retained a Seanachaidh who was present at important occassions. It was his role to regail the assembly with their history, to entertain (with harp, as I do), to compose poetry to record important events for the collective memory. This function in a clann is now rare, but a fine development of this Scottish Highland tradition is to have a Seanchaidh at your wedding, entertaining, officiating as an MC, giving a sense of Scottish weddings past.
You can invite me to your wedding as a storyteller only, without the MC function.
"We're just doing our thank you notes and we wanted to drop you a note to say thank you very much for helping to make our Wedding day so special. You both really helped the day go smoothly and absolutely everyone loved all the extra special Scottish ceremonies, and for Martin and I it made the day that more personal." Kathleen Clark and Martin MacShane, Glasgow, 2004.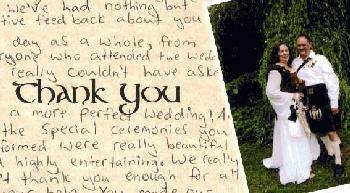 Laura and Paul Curtis, Canada, 2007 Click to see full image